Instructions For Submitting Exemption Certificates Via Avalara CertExpress
Accept Terms & Conditions, click "Go"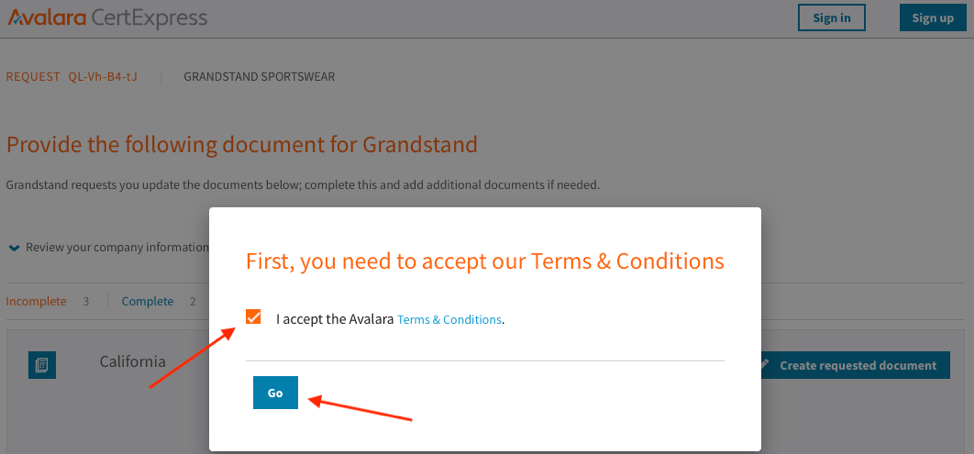 Click on the arrow next to "Review your company information" to ensure the information on file is correct. Click "Edit" to update the information showing, if necessary.

There will be three categories of exemption certificates: Incomplete, Complete, and All.
Incomplete – these are the states where Grandstand has shipped products for your company but we are missing your exemption certificate. Sales tax may be charged on orders shipping to these states if we don't have an exemption on file. Please see further instructions below on how to submit the requested forms for these states.
Complete – please review the exemptions that we do have on file for you and contact

[email protected]

if any updates are required.
All – includes all states where we have shipped products for your company.
To submit a certificate for one of the "Incomplete" states, first click on "Incomplete" and then "Create Requested Document"
Select the exemption reason. Explanations for the most common options are included below.
Resale – most common. Select this option if Grandstand should not charge you sales tax because you are reselling the products purchased from Grandstand to your customers and will be charging your customers sales tax at that time.
Charitable/Exempt Org or Religious/Educational Org – Select this option if your company is exempt from sales taxes due to your business having a status that allows for you to be exempt. Please note that not all businesses with these statuses are automatically exempt from sales tax. Additional information regarding what types of businesses are exempt from sales taxes under this category can be found on Avalara's website
Taxable – Select this option if you should be charged sales tax on your purchases. This will ensure that Grandstand has your account properly classified and we will not continue to request exemptions from you.
If you are non-taxable, please follow the remaining prompts to fill in the information from your sales tax exemption, then you will just need to sign the document and follow any additional prompts and the certificate will automatically be submitted to Grandstand.

Thank you for your assistance in completing the requested documents. Please contact our receivables team at [email protected] or 785-843-8888 if you have any additional questions.