Frequently Asked Questions
Answers to frequently asked questions follow. Don't see your question addressed? Give us a call at 800-767-8951 or contact us today, we're happy to help.
Ordering
Online Ordering
I placed an order online, what happens next?
Once your order has been placed, you will receive an Order Acknowledgment email with your order number and your expected proof date. You will also be able to view your order status in the My Orders section of your account.
Next you will receive an email notification that your Art Proof and Order Confirmation is ready to view. You must approve BOTH your art AND order details before we can proceed with your order. Please allow 3-5 business days after receiving your Order Acknowledgement for your Order Confirmation to be emailed. If you need to change something on your order, please decline the art proof/order confirmation. At each stage of the decline, there will be a 'Notes' box for you to tell us what you would like to see changed. Once those changes are made, we will resend you an updated art proof and/or order confirmation.
After your order has been approved; it will be sent to production. When your order is complete you will receive an email with tracking information for your shipment.
Product Information
What are drinkware capacities?
Beverage-ware/stemware capacities are stated in approximate U.S. fluid ounces, and should not be used as a standard of measure. All fluid capacities are established to overflow capacity. Our capacity specifications allow for a tolerance of +/- 5% for nominal capacities greater than 5.0 ounces; and a tolerance of +/- 0.25 ounces for nominal capacities less and 5.0 ounces. Listed dimensions should not be construed as specifications, but as nominal.
Quantity
May I order less than the minimums listed on the website?
The minimums that are listed on each product page are the fewest number of pieces we can do.
Will I get the exact quantity I ordered?
As is standard for the industry, we have an overage/underage policy of either 12 pieces or 5% of the quantity ordered; whichever is higher. This means your order may ship up to 12 pieces or within 5% over or under the quantity you requested. You will only be billed for what is shipped. If you require an exact quantity, please contact us ASAP and let us know. There is an additional charge for an exact quantity shipment.
Timeframe
What is your lead time?
Our average lead-time can fluctuate due to seasonal demands and production capacity. Please contact our Sales Department to receive our most current lead-times.
What is an event date?
If your order is time-sensitive or is for an event, an Event Date must be entered on your order to guarantee timely arrival. Please contact our Sales Department if you need an Event Date.
Are Rush Orders available?
If your expected delivery date does not meet your needs, rush options may be available. Please contact our Sales Department to discuss scheduling and shipping options. Rush fees may apply.
Payments

Pricing, Fees & Payments
Do I have to pay by credit card?
Payment at time of confirmation is required. If your company has not applied for Net Terms or ACH , you must pay by credit card.
How do I apply for Net Terms?
Net terms are available for businesses only and are reviewed on a case-by-case basis to credit limits.
How do I apply for ACH Terms?
Please contact our Accounting Department if you are interested in applying for ACH terms.
Where do I mail check payments?
Check payments should be mailed to PO Box 3497, Wichita, KS 67201
When will my credit card be charged?
Your credit card will be charged at the time you approve your art proof and order confirmation.
Do I have to pay sales tax on my order?
Yes, sales tax is applied to all orders. Customers may provide us with a resale exemption form (with a valid state-issued resale tax ID number) or tax exemption certificate to avoid paying sales tax. We must have this on file before your order is invoiced.
Are there other fees?
Need an exact quantity? To ship exact, there is a 5% of total order charge. This is required because in order to hit an exact quantity, more items than needed typically need to be produced.
Need to cancel your order after it has been approved?
No problem; however, a $50 cancel fee will be charged.
*Only US currency is accepted.
Shipping
Important things to know

1. Freight quotes are estimates only and are subject to change based on changes in your order or delivery requirements.
2. Delivery dates on your order confirmation are an estimated delivery date only, and not an appointment or guaranteed shipping, unless requested at time of order. If you require an appointment, or a guaranteed shipping date, please notify us immediately.
3. If your address is a residential address, or does not have a loading dock and/or fork lift, you will REQUIRE a lift gate. If this is not communicated to us, it can result in a delays and redelivery fees. See more info in the Accessorial section below.
4. If you contract a 3rd party carrier for shipping, Grandstand is not liable for any freight claims or damages that may occur in transit. Once the freight has left our dock, we do not assume any further responsibility for the shipment. Any freight issues should be addressed directly with the carrier.
How are my freight costs/shipping charges estimated?
Shipping charges vary depending on location, weight and time. Freight for all apparel items shipped within the contiguous ("lower 48") USA is free.
Why is my freight estimated?
Freight is estimated and may change based on variables not available to us at time of quoting. Certain destinations may require additional charges due to their remote locations, lift gate requirements, inside delivery requests and/or appointment requests. Our estimator only works for locations within the Continental USA. For freight quotes elsewhere, please contact us.
How will my items ship?
Glass orders over 100 lbs. will ship via LTL freight services. Anything less than 100 lbs. will typically go via UPS small package, if product allows. Most apparel orders will ship via UPS ground service.
What if I receive damaged or broken items?
Please inspect your shipment as soon as it arrives. In the event you receive a visibly damaged shipment, please note the damage on the delivery receipt. DO NOT REFUSE THE SHIPMENT. If you do not denote damage on the delivery receipt, a claim cannot be filed with the freight company. The signature box varies by freight provider. Typically where you sign will say "…freight received in good condition and shrink wrap intact except as noted".
Please take clear photos of the damaged shipment box, as well as a separate photo with damaged merchandise. Please send photos to your Account Manager or our Sales Department within 24 hours of receipt to file a claim. Any damage claims received after 24 hours will be subject to review. Any damage claims submitted after 30 days will not be accepted.
After the claim has been filed, Grandstand will deal directly with the freight provider regarding your reimbursement for items damaged in transit. If the damage will cause you to be greatly under-supplied, we will work with you on replacements.
Is Blind Shipping available?
No, we do not offer special accommodations for blind shipment requests. We apologize for any inconvenience this may cause.
What is an Accessorial?
An accessorial is an additional service provided by the freight company during delivery. These include, but are not limited to: inside delivery, lift gate, limited access, appointment request, residential, et al. Typically an accessorial costs an additional fee, and is paid for up front if requested before time of service, or following delivery service if requested on site.
What is Inside Delivery?
Any time a delivery has to move more than 10 feet from the truck, it is going to result in an inside delivery charge. This includes breaking down your shipment. When freight is delivered to a residential address, inside delivery can be assessed for moving the pallet to the driveway, porch or garage. Drivers will not take freight inside a home.
What is a Lift Gate?
A lift gate is a platform at the back of the truck that can raise and lower a shipment using a hydraulic system. When the receiving address does not have a loading dock and/or a forklift, manual loading and unloading is necessary.
What is Limited Access?
Generally speaking, limited access is defined as meeting any of the following conditions: not open to the walk-in public during normal business hours; not having personnel readily available; sites with security-related inspections and processes prior to freight delivery; location will require use of a small truck due to limited space (space isn't easily maneuverable by a semi-truck in and out of your location).
Examples include, but are not limited to: schools, military sites, small strip malls, rural route or out of town highway access locations, private residences, camps, churches, government facilities, farms, nursing homes, medical facilities, individual (mini) storage facilities.
Can I set an appointment or be notified prior to delivery?
Yes! For your convenience you can request an appointment for delivery. This request may delay your delivery by at least one or more business day(s). Please Note: if you miss your scheduled appointment, it may require one or more days to receive your delivery.
How do I know if my address is zoned for Residential or Commercial?
You can verify the zoning of your address by going to your local city/county government website.
Can I ship to APO addresses?
Yes! However, this generally takes longer than our normal shipping timeframe. Please contact us for more information.
Can I ship to international addresses?
Yes! Grandstand welcomes our customers from all over the globe. Our shipping processes are a little different depending on the destination country.
Canadian Customers
Grandstand will arrange for your freight to arrive at your door. All you need to do is provide a customs broker of your choice. You are responsible for any duties, fees, and/or any other charges associated with the freight crossing the USA/Canada border. Grandstand will provide you with the necessary NAFTA or other documentation for orders that require it.
Non-Canadian International Customers
Given the complexity and various regulations across the rest of the globe, Grandstand prefers to ship all non-Canadian international shipments as EXW (Ex Works) shipments. This means it is your responsibility to arrange a freight carrier to pick up from our facility in Lawrence, KS. The title of the goods will transfer to the customer at our dock. If you do not have a preferred carrier/broker, we would be happy to provide a list of companies we have worked with in the past.
Tracking Your Order
We use a variety of shipping methods to get your product delivered to you in the quickest and safest manner possible. To track your order, contact your Account Manager or call us at 800-767-8951.
Cancellations, Returns & Refunds
Cancellations
What is your Cancellation Policy?
You can cancel your order at any time prior to confirmation, but a $50 cancellation fee will be applied. If your order involves apparel, a restocking fee may also apply.
Returns
Returns and Refunds Policy
Returns – please inspect your order upon delivery and contact us within 5 days of receipt if you believe there is an error or defect in your merchandise.
Returns
If your shipment arrives with any damage, PLEASE NOTE THE DAMAGE ON THE DELIVERY DOCUMENT. We cannot file claims with the carrier once a shipment has been signed for as arriving in good condition. Please take clear photos of the damaged shipment box, as well as a separate photo with damaged merchandise. Please send photos to your Account Manager or our Sales Department within 24 hours of receipt to file a claim. Any damage claims received after 24 hours will be subject to review. Any damage claims submitted after 30 days will not be accepted.
| Claim Requirements | UPS | LTL |
| --- | --- | --- |
| Photos of broken ware | X | X |
| Photos of the packaging/boxes | X | X |
| Photo of the label on the box (incl. tracking #) | X | |
| Quantity broken | X | X |
| PRO Number (LTL tracking) | | X |
| Signed POD (proof of delivery) | | X |
If your order contains product manufacturer defects, or you are not satisfied with the quality your item, please contact us within 15 days of the shipment date. We examine every claim on a case-by-case basis. Please remember to review your design and the product type and quantity prior to approving, as each order is custom decorated to your specifications and cannot be resold. Under certain circumstances we might ask you to return your items in order to receive a refund. Any quality claims submitted after 90 days will not be accepted.
Refunds
Refund Process
All refund requests are subject to approval. Upon approval, any refund requested on orders paid with a credit or debit card will either receive credit posted to the card used at the time of purchase or store credit. The refund will be processed within five (5) business days following approval. Merchandise may be required to be returned for refund.
Artwork & Specs
Quick Templates
Do you have Templates or Design Elements I can use to customize my order?
We do have easy to use Wedding Templates available. For other artwork, explore our custom Design Services and our Portfolio. Our in-house creative agency – 88 Design Group – does everything from updating an older logo to full branding.
Art File Formats
What formats do you accept for artwork files?
Grandstand prefers Vector-based files in Illustrator (.ai .eps .pdf) or Freehand (.fh .eps). All fonts must be saved as outlines and all images must be embedded. Photoshop files (.psd .jpeg .tiff .gif .bmp) can also be submitted, but need to be 600 PPI at actual size. All files MUST be Mac compatible. Sorry, but we will NOT accept CorelDraw (.cdr), Word (.doc) or PowerPoint (.ppt) files.
For Illustrator files, please make sure all fonts are as saved as outlines and all images within the file are embedded and 600 PPI.
For Freehand files, please make sure all fonts have been converted to outlines and all images within the file are embedded and 600 PPI.
For Photoshop files, please make sure your file is 600 PPI at actual size. Files needing to be increased in size for printing will have a decreased PPI. Please include all fonts used in your artwork. If your artwork is more than one color, please save with layers, as we will have to separate the file before printing.
What if I don't have a vector file?
If no vector format exists, an art fee may apply for redraw.
Vector Art vs Raster Art
What is Vector Art vs Raster Art?
Vector art has the ability to increase size without becoming blurred. Vector art can also be manipulated for color separating purposes. Art does not become vector by placing a raster image into a vector-based program.
Raster image dimensions are measured in pixels. Because raster images cannot be enlarged without losing quality, Grandstand has specific size requirements for our processes; they require a specific amount of pixels within each inch. The amount of pixels within each inch in the image represents the image pixel resolution or PPI (pixels per inch).
To determine what size your raster image must be for good, quality printing, multiply the minimum PPI by the area to be printed. So as an example: Grandstand requires a minimum of 600 PPI. If you want to print an image in an area that is 5 inches wide, multiply 600 pixels x 5 inches (600 x 5 = 3000). Your image must be at least 3000 pixels wide.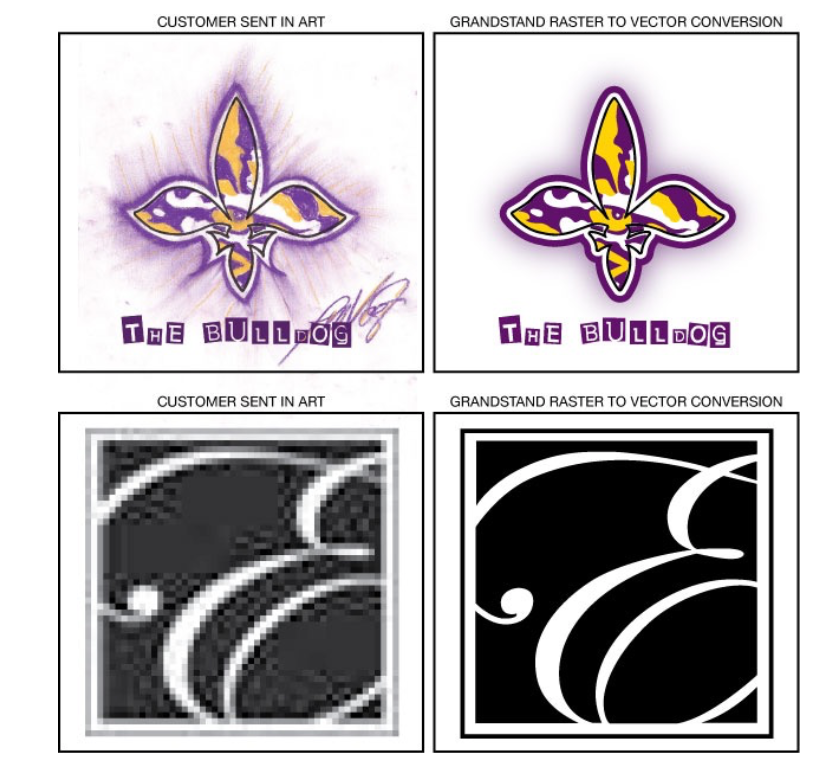 Can you convert my file to Vector Art?
Grandstand can convert your raster image or sketch into vector art for higher-quality printing. If you do not have vector artwork, we will proceed by redrawing the art. An additional art fee may apply.
Sending Art Files
Sizing
Art will be sized to the standard print specifications of your chosen product(s), unless otherwise requested. If you require different sizing, please make a note in the 'Notes' section when placing your order.
Custom Creative Services
Need a logo or custom graphic design? We can help you with that too. Grandstand has a full service in-house graphic design team, 88 Design Group. Learn more about our Creative Services.
Other Art Information
May I see what my art will look like on the product before I place an order?
Yes! Once your order has been placed, an art proof will be created and emailed for your approval. This will be a rendering of what your art will look like on your requested product. PLEASE NOTE: We will NOT proceed or produce your order until the art has been approved.
Will all ink colors print well on Amber or Cobalt glass?
No. Certain ink colors will not offer good contrast when printed on amber or cobalt glass. Recommended colors to avoid: satin etch, black, and various shades in blue and brown color palettes will not represent well without some sort of base and/or border. If you are unsure, please ask your sales rep for an art sample.
Will my artwork look the same on all products?
Colors print differently on aprons and tote bags than they do on traditional apparel items. Much the same, colors print differently on glassware than they do on apparel items. We cannot guarantee an exact match.
What is California Proposition 65?
California Proposition 65 is legislation that requires businesses to inform Californians about potential exposure to certain toxic or carcinogenic chemicals. Products with these specific chemicals present must be labeled with a consumer warning. Certain glassware decoration methods contain some of these chemicals and, in order to comply with Prop 65, must be properly labeled as such.
Grandstand provides the labeling service for Prop 65 compliance free of charge for our California customers, or any customer whose products may end up in California. Other decoration methods, like our Full Color Organic printing, are by their nature Prop 65 compliant and require no labeling. Please notify Grandstand when you place your order if the products will be sold in California and will need any Prop 65 Compliance labeling.
This is a very brief overview of Prop 65 and it does not address all questions regarding or aspects of this law. For more information about warning requirements, the ramifications of non-compliance or to view the regulation in its entirety, visit https://oehha.ca.gov/proposition-65.
Copyrights & Trademarks
Who is responsible for copyright/trademarked material?
Grandstand is not responsible for gathering, maintaining or verifying the copyright status of customer-provided files. All print customers are responsible for obtaining permission to use, duplicate, and/or edit all copyrighted material prior to submitting said files to Grandstand; and must provide written permission upon request.