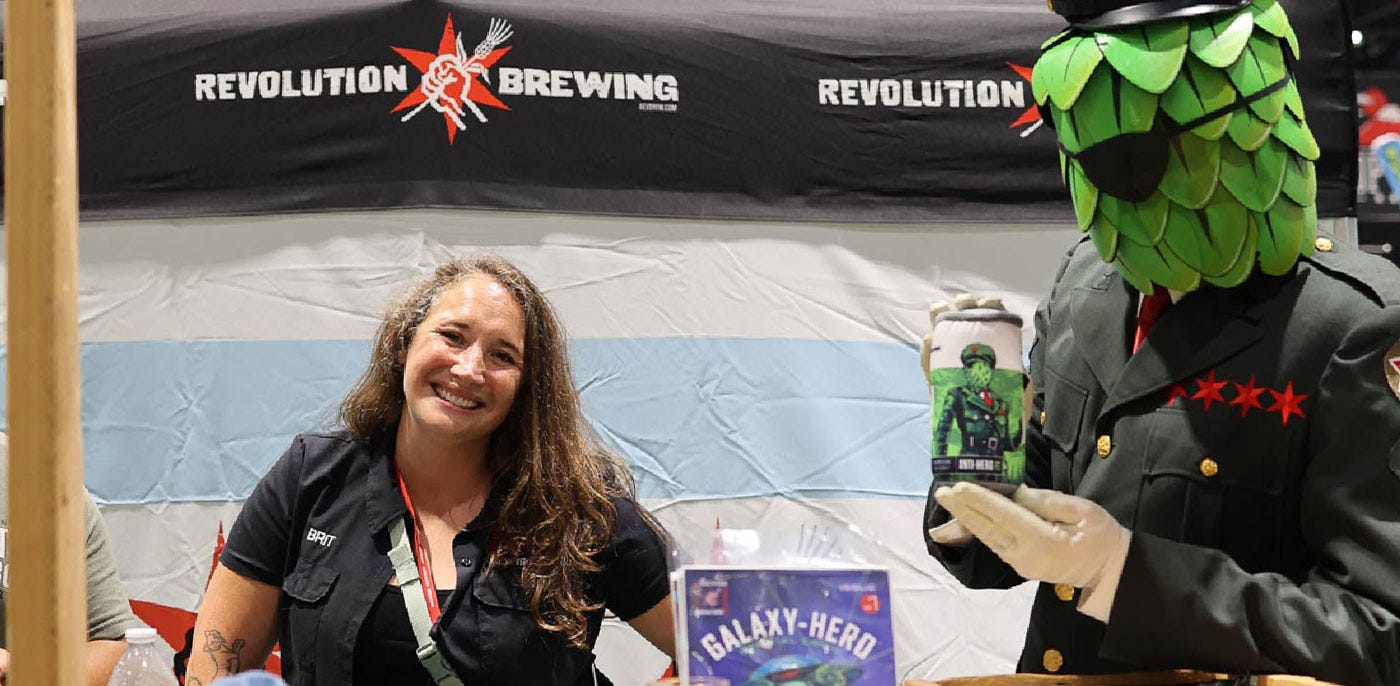 What do you think the benefits of event specific or beer specific merch are?
In both cases, it's a storytelling opportunity. Any event that we do starts with a particular message that we want to focus on, and event-specific merch helps connect that message to attendees, in concert with the visual design of our activation and on-site experiences. For example, at our summer "Freedom Fest" last year, the merch that we developed helped display the playfulness and creative expression that goes into our Freedom Session Sour line, and sipping a Paloma-inspired beer while wearing sorbet pastel tie-dyed tees emblazoned with the soaring eagle featured on the logo was part of the experience.
Beer-specific merch gives us another format to let our customers interact with something they love: I wear my Baphomet Bock T-Shirt frequently, not just because the art is awesome, but because I'm crazy about the beer itself. Drinking beer is an ephemeral experience, so it's great to give our fans an opportunity to have a permanent tangible connection to one of our brews in the form of a glass, keychain, or hoodie.
Is merchandise worth the effort?
Beyond any financial value, merch is a point of pride: for our employees, our partners, and our customers. It lets people represent a company that they have a relationship with, either formally or informally. Millions of people have contributed to Rev's success in some way, whether that's by trying a pint of our beer or by spending a significant portion of their career building the brewery into what it is today. Merch is a physical way for folks to share that they were part of that story.
Especially for events where we're just one particular part of a much larger experience, merch also gives attendees a reason to engage with us. It's much easier to approach a company's activation when you see something that you can interact with, such as giveaways or items for sale. Once we've drawn folks in, we can see if they're interested in hearing more about our brewery and what makes us unique. For events where we're the main focus, such as a barrel-aged beer release, brand-specific merch can help guests commemorate the experience and take home something that reminds them of a special thing they got to do.
Another important value add is getting to use merch to showcase our employees: every time we get a new hoodie or baseball cap, we get to feature someone from our awesome staff modeling it on our social feeds, which is a natural and effective way to show off the faces of Revolution.
So it's a mix of tangible value and intangible (but very intentional) value.
What does Revolution's planning process for events look like?
We're a large brewery and we make a wide variety of beers, so we often start planning for events by honing in on a brand priority. Because our brand families have different visual motifs, choosing the most suitable product to feature helps us imagine the rest: the merch, the signage, the set pieces, the activities, the photo ops. For example, our Hero IPAs have a strong comic-book-style theme, so they're a natural fit to design our activation at the C2E2 pop culture convention around - you can drink those beers at C2E2, but you can also meet the characters, buy merch featuring them, and take photos under giant banners with their art on it. So it creates a unified experience for the customer, but still lets us highlight the products that we think are most interesting for that particular crowd.
Any advice for those wanting to expand their event ware?
It's fun to think outside the merch box instead of always defaulting to T-Shirts and Glassware - we ordered some lip balm flavored after our Freedom Lemonade last year, and the amount of people who came up to us at Logan Square Arts Fest with wide eyes, asking "is this LIP BALM?!" showed that it was a big hit. Just like with beer, customers love a mix of the expected and unexpected.